Van Damme to channel Machida?
June 1, 2009
Jean-Claude Van Damme and Lyoto Machida are doing their part to put karate back on the map.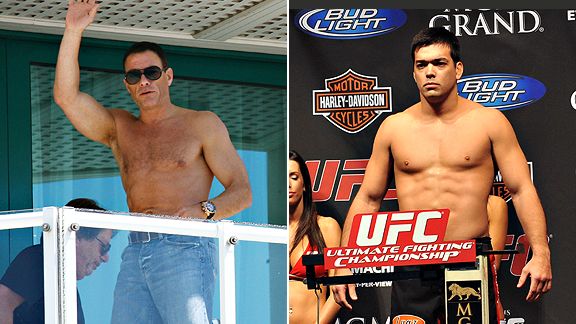 It was not so long ago that Jean-Claude Van Damme was considered the Laurence Olivier of groin shots. He possessed a certain brick-headed appeal — along with a barely-decipherable Belgian accent — and plied his trade to modest success in a series of stupid movies.

(Despite my alleged maturity, I still will stop everything to watch «Bloodsport» if it's on TBS. Nostalgia is a powerful thing.)

But in recent years, drugs and self-admitted character flaws have made life difficult for the Muscles from Brussels (as has the nickname "Muscles from Brussels"). Now comes word that Van Damme will be channeling his inner Lyoto Machida by starring in the subtly titled "Karate," a low-watt feature film about a down-and-out prizefighter trying to turn his life around, which was recently shopped at Cannes.

The film's official website elaborates:
"It is one of the greatest fight movies of all time, appealing to a wide-ranging, new-generation audience and especially to the millions of karate and martial arts fans around the world who are hungry for a new martial arts epic in the tradition of 'Bloodsport.'"

Understand? Despite not having completed — or possibly even started — principal photography, "Karate" is already "one of the greatest fight movies of all time." The poster copy — "Can the master of the ancient arts conquer the caged fighters of Las Vegas?" — suggests some 11th-hour rewriting intended to capitalize on Machida's newly claimed status as karate's long-overdue savior.

It is also the umpteenth Van Damme film to feature a damaged protagonist whose "ego spirals out of control," only to be redeemed with some awesome shin-on-face violence. IMDB.com lists Fedor Emelianenko as a possible co-star. IMDB.com is, more often than not, about as reliable a source of facts as your average tobacco company.

Doesn't matter. I will watch the hell out of this. And so will you.
Jean-Claude Van Damme
Source: pastemagazine.com